This roasted potato recipe has been copied, adapted, and praised all over the internet, so I wouldn't have bothered posting about it myself if I hadn't also been looking for the chance to tell you about this fermented mustard. Of course you may use store-bought (I've always made it that way before) and it is a very satisfying way to quickly prepare simple red skinned new potatoes (I promise you), but this variation–a unique mustard, a brightly colored mix of purple fingerling and sweet potatoes, plus a few sliced shallots–made it an especially fun dish.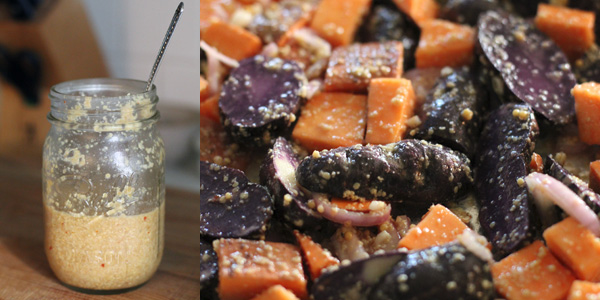 The fermented mustard was a recent kitchen experiment of mine inspired by this post on Well Preserved. We've been enjoying the resulting condiment on sandwiches and such, but even though I'm guessing the high-heat roasting removes some of the health benefits that regular eaters of lacto-fermented foods are looking for, it was still a great tasting (and great smelling while roasting) addition to this dish. The shallots turned sweet in the oven, some a little crispy (these bits I hoarded for myself), and the color in the potatoes deepened into rich jewel tones.
The verdict: a perfect side for a summer cookout.
Mustard Spiked Roasted Potatoes
My take on an already popular recipe further inspired by Joy the Baker
1 quart purple fingerling potatoes, halved
1 sweet potato, cubed to a similar depth
2-3 shallots, halved and sliced
1/2 cup fermented mustard or whole grain Dijon
2 T olive oil
2 T melted butter
3 T lemon juice
Salt and pepper to taste
Line a rimmed baking sheet with foil and preheat the oven to 425°F while you prepare the vegetables and dressing.
Whisk together mustard, olive oil, melted butter, lemon juice, salt, and pepper. Place cut vegetables into a large bowl and drizzle with the dressing, tossing until pieces are evenly coated. Spoon the vegetables out onto the baking sheet, leaving any excess dressing in the bowl. Roast for 25-35 minutes–stirring half way through–until the potatoes have browned and are easily pierced with a fork. Enjoy with the picnic fare of your choice, or straight out of the bowl when no one is looking.