Even though I'm a vegetarian, as a fan of all things cooking and presentation, holiday meals are high priority–even ones designed around a dressed up roasted bird (or perhaps bourbon brined and fried?). Over the years as an invited guest at the feasts of others, I've contributed my share of wild rice and dried fruit side dishes or defaulted to pie baking duty. Considering 2011 has been my year of bread, however, for this year's round I went looking for an appropriate holiday loaf.
Which brings me to my second "even though," because even though I am not Jewish, I have been addicted to braiding up dough ever since trying my hand at challah–and I haven't even gotten to the double-decker celebration version yet!
All of this preamble gets us around to how I ended up landing on this King Arthur recipe for Holiday Pumpkin Bread and declaring it a perfect candidate. Featuring fall flavors, it's not too sweet yet unusual enough to stand out, plus its round celebratory braid reinforces the sentiment of love and community gathered around the table for more than just an average Thursday night meal.
I found the construction of the bread to be straightforward, and even mixing the somewhat sticky dough was a snap since I just piled all the ingredients in a bowl and let my stand mixer go to work. Most of the required investment is simply in time while waiting out the two rises. A little oil on your hands and your counter space keeps the soft dough from adhering to anything while forming the circular braid, and the lovely smells of pumpkin and spice even before the baking begins are enough to keep the baker motivated. Once the rounds hit the oven, good luck keeping attracted family members from devouring them before your holiday meal. Luckily, the recipe makes two loaves.
On a personal note, a nifty thing I discovered as a result of my broken oven and the paging through the instruction manual I did in an attempt to troubleshoot: this appliance is way fancier than I realized when we moved in and it even has a proofing feature! This is going to make winter bread baking–which can be a little tricky in our sometimes drafty, radiator-heated home–a lot more efficient. I bet this might work for yogurt making as well…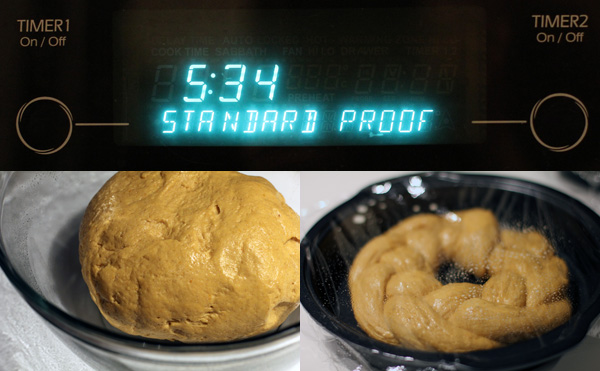 Spiced Pumpkin Celebration Bread
adapted from King Arthur Flour
20 oz (4 3/4 cups) AP flour
1 teaspoon cinnamon
1 teaspoon ground ginger
1/4 teaspoon ground cloves
2 1/2 ounces (1/3 cup) brown sugar
1 1/2 teaspoons salt
1 tablespoon instant yeast
15-ounce can pumpkin
2 large eggs
1/4 cup melted butter
*additional egg, beaten with water as needed, for egg wash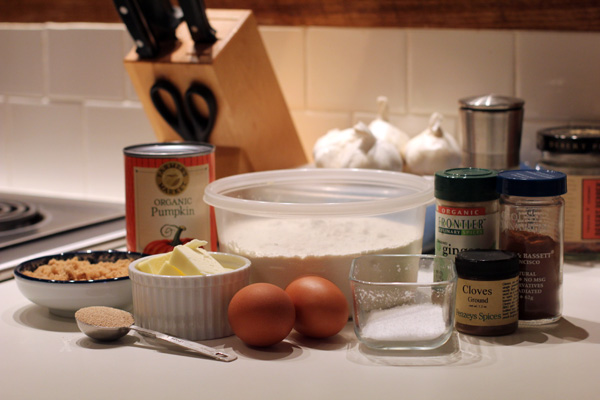 Place all the ingredients (except for the egg wash) in a large bowl or the bowl of a stand mixer and mix and knead until smooth. The dough is somewhat sticky, but take care not to add too much additional flour so that the bread remains moist and light. Transfer to an oiled bowl, cover with plastic wrap, and allow to rise for about 90 minutes.
Once dough has puffed up (but not really doubled) lightly oil your workspace and hands and divide the dough into six even pieces. Working with three at a time, roll each into a log about 1.5 inches thick and braid, pulling the loaf into a round and joining the individual ends together. Lightly oil a 9-inch cake pan and place the braid in the center. Repeat the process with the remaining dough, then cover both with a sheet of greased plastic wrap. Allow to rise again, 60-90 minutes.

Preheat the oven to 350°F. When second rise is complete, gently remove plastic and brush each loaf with the egg wash. Bake for 30 minutes until golden (or until the center of the dough registers 190°F). Remove loaves from the pans and place on a wire rack. Cool completely before slicing.
***I'm not sure this recipe meets the requirements for Cathy Elton's call for heart healthy T-day recipes, but at least it's homemade so no weird additives! If you've come to Wonderland looking for such nutrition-conscious festive dishes, perhaps a batch of Celeriac and Lentils with Hazelnut and Mint will suit.